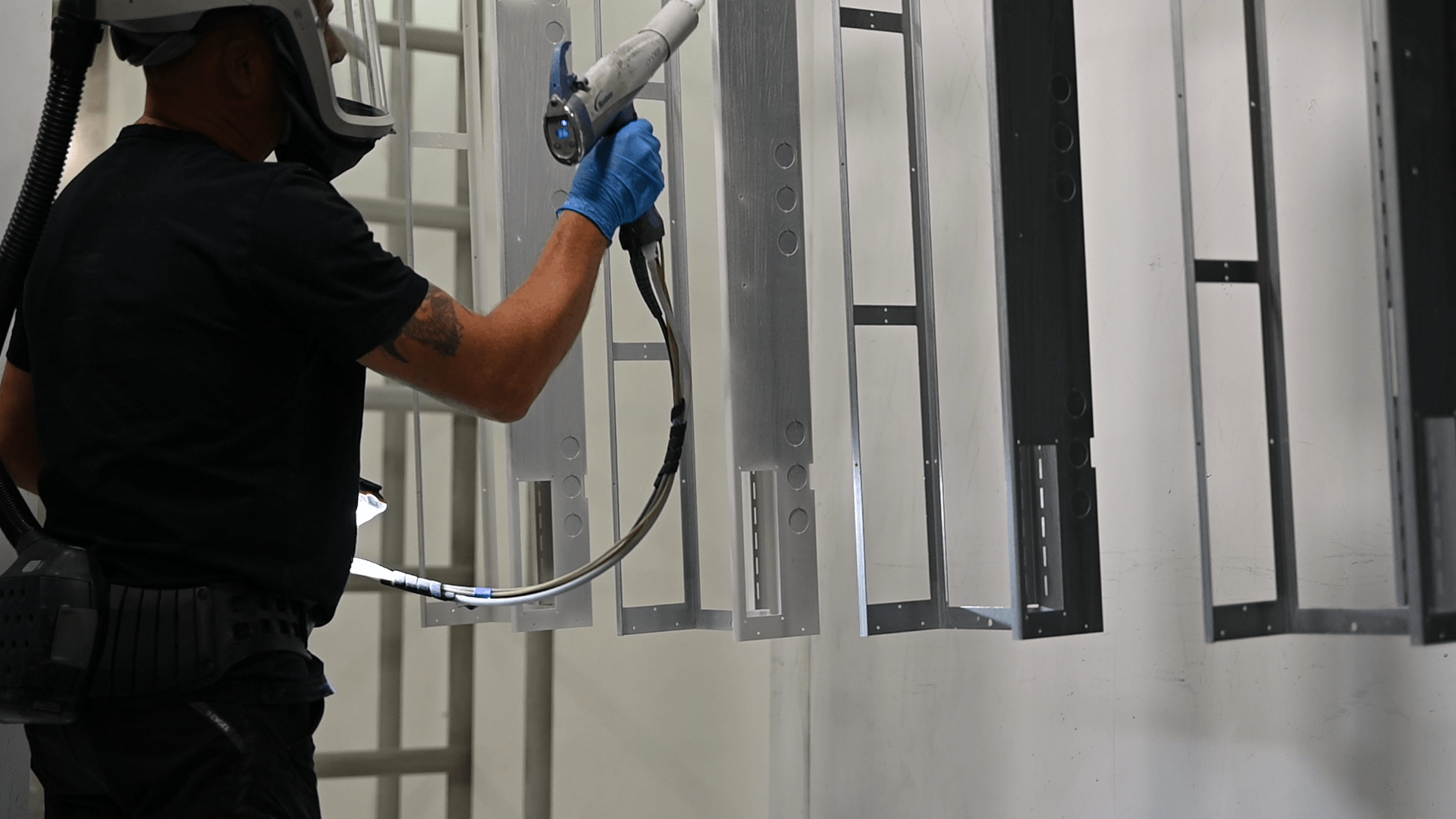 This is the story of a West Jutland company, founded in 1972 as a car refinisher, and which grew into one of Denmark's leading industrial painting companies.
Today, Brandt A/S consists of approximately 100 employees – surface finishers, car painters, warehouse and logistics staff, truck drivers, quality assurance workers, administrative employees, and industry specialists. The company also operates modern production facilities of more than 17,500 m2 in the West Jutland city of Varde.
Brandt A/S services a wide range of customers in both Denmark and abroad. These include a number of well-known Danish design furniture companies and kitchen manufacturers.
As complexity increases, digitization becomes a necessity
For many years, Brandt A/S has managed with a proprietary system, designed for the car painting industry. Even after the introduction of the first robots to the production plant in 2004, staff 'made do' with this relatively simple industrial system, which involved many manual processes.
However, as the business shifted from car refinishing to industrial painting, new management and planning requirements gradually emerged, as the amount of sales orders and goods to be disposed of became too large and complex for manual handling. Therefore, as recently as 2017, Brandt finally introduced an actual ERP solution. In order to handle the increasing volume and increasing complexity of orders, Brandt decided to implement Microsoft Dynamics NAV.
Rising freight rates, new opportunities
During the pandemic, prices for road transport and container freight skyrocketed. For several of Brandt's customers, this had a significant impact on their finances, and suddenly, Brandt's storage and logistics service added even more value for the customer than before.
As freight prices rose, customers needed to minimize transport costs per unit, by maximizing the number of units per vehicle or container. This meant that they could wait for products undergoing surface treatment, painting, and assembly, to amass in Denmark – or more precisely, in Brandt's Varde factory. At that point, it became possible to a greater extent, to paint products according to actual sales, rather than based on sales forecasts of a given variant.
Increased need for digitalization
By being the last link in production as well as part of stock management and logistics, Brandt can offer its customers better value services. This naturally creates an increased need for IT support, automation, and digitalization of processes, in order for Brandt to be able to keep track of their entire operation processs. This also ensures high quality, and prevents errors in deliveries.
This is where Fellowmind has assisted – and continues to assist – Brandt, as an advisor and supplier of solutions that support and optimize operations all the way from accepting orders to dispatching them. Fellowminds Dynamics consultant Kent Thomasen has been involved from the beginning to adapt the solution to Brandt's particular needs and is still onboard to optimize and further develop the solution for new tasks.
"Brandt wants to continually expand the use of digital support in several parts of their business, in order to be part of the global value chain. In recent years, the focus has very much been on the optimization of their supply chain, paying particular attention to their internal and outgoing logistics flow," says Kent Thomasen.
The ERP solution of the future: Dynamics Business Central
Brandt still has ambitions to continue developing the company, and factory manager Brian Lillegaard predicts that, among other things, the company will undergo further digitalization of both business processes and customer services, in addition to data collection for a better overview of production efficiency.
"There are obvious opportunities for Brandt, when it comes to the automation of data collection in production. This is also part of Industry 4.0, where production units such as machines, are able to work better together", says Kent Thomasen.
The plan for the foreseeable future is to upgrade Dynamics NAV to Dynamics Business Central, to take advantage of the many new functionalities and opportunities this entails.
"We are, of course, switching to Business Central, in order to gain access to this wonderful palette of extra tools that we can potentially benefit from", says Brian Lillegaard, factory manager, Brandt A/S.
However, in the short term, this is primarily about utilizing the technology that is already available, and discovering any hidden potential.
Want to know more?