Welcome to our webinar and LinkedIn Live Event: Transforming the Way We Work with Open AI
Join us for an engaging discussion on how Open AI is revolutionizing the future of work.
We have assembled a group of top experts who will share their knowledge, insights, and predictions regarding Open AI. This exclusive webinar will provide you with valuable information to assess how Open AI can transform your business as well as guide you in taking concrete steps towards harnessing its power.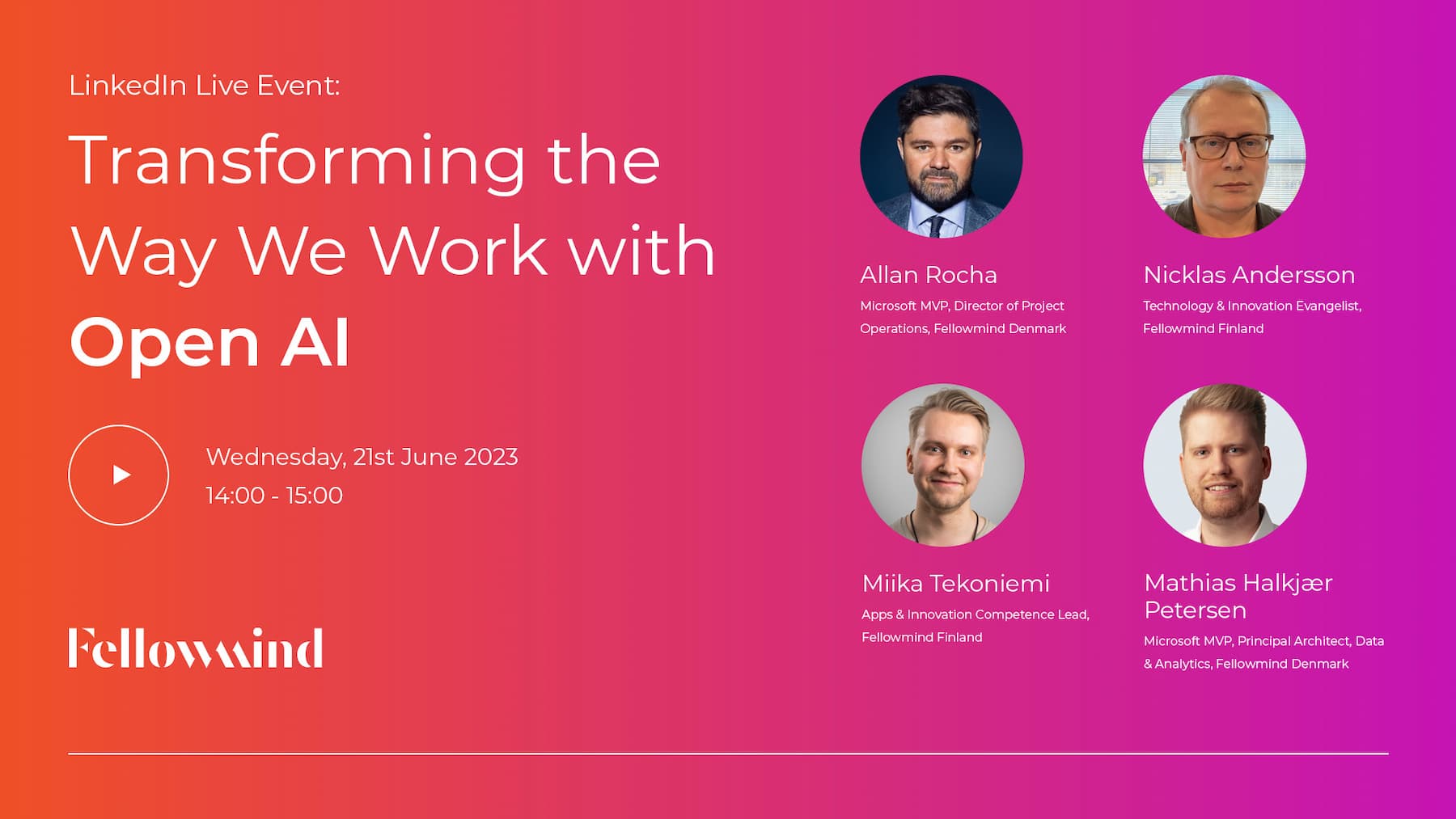 Agenda
Azure Cognitive Services and Integration to Business Applications
// Allan Rocha, Microsoft MVP, Director of Project Operations, Fellowmind Denmark
Overview of available services and deployment types
Roadmap and future developments
Leveraging the latest Microsoft releases in your applications
Security, Leadership, Compliance, and Legal Aspects of Open AI
// Nicklas Andersson, Technology & Innovation Evangelist, Fellowmind Finland
Exploring the safety of Open AI
Legislation and its implications for organizations, particularly in the EU
Leadership and cultural considerations for successful AI implementation
Latest Microsoft Releases and Concrete Use Cases with an Open AI Demo
// Miika Tekoniemi, Apps & Innovation Competence Lead, Fellowmind Finland
Highlights of Microsoft Build releases related to Microsoft Copilots, Low Code AI, and Open AI
Real-world use cases demonstrating the potential of Open AI
Live demo showcasing the capabilities of Open AI
Microsoft Fabric: All your data, All your teams, All in one place
// Mathias Halkjær, Microsoft MVP, Principal Architect, Data & Analytics, Fellowmind Denmark
Key features and benefits for your business of Microsoft Fabric, One Unified Data Analytics Platform
How to leverage your data and AI to gain competitive advantage
Who is this webinar for?
This webinar is targeted especially towards C-level decision-makers who are looking for a comprehensive guide into the world of Open AI and how it can be leveraged in your organization for higher efficiency and productivity, automation and cost reduction, as well as innovation and competitive advantage. We will also provide you with risk management and compliance guidance.
Register now for this session: Transforming the Way We Work with Open AI | Fellowmind.