Fellowmind at Hannover Messe 2022
This year, Industrial transformation for digitization and sustainability were the main focal points for Hannover Messe 2022. As one of Europe's leading Microsoft partners with Manufacturing industry expertise, we wouldn't miss it for the world!
Watch our movie from Hannover 2022
For the first time since the pandemic, we were back at what has been called "the global hot spot for the Manufacturing industry" – the Hannover Messe. The event is one of the world's largest trade fairs for industrial development and is held annually in Hannover, Germany. With over 6000 exhibitors and approximately 250 000 visitors, spanning over four days, you can clearly see why this one matters to the industry's future.
A green transition to a sustainable industry
This year's focal point was the transformation of industrial technology into digital and sustainable solutions. A theme that fits us perfectly. We believe that our vision of Meaningful Manufacturing plays an essential role in a conscious and climate-friendly industry by seeing the business and digital solutions from the human perspective.
Microsoft – what's next for manufacturing?
Our neighboring stand was fittingly Microsoft, and we had the great opportunity to exchange a couple of words with Patrick van Loon, Manufacturing Industry Executive Microsoft Western Europe.
"I'm here to help customers understand what digital transformation really means for the manufacturing industry.", Patrick tells us.
What are your key takeaways from the fair?
"First of all, it's great to be back in person. The virtual show was needed for a couple of years, but the personal connection is important. What we really see right now is that digital capabilities within manufacturing are on top of mind for customers in the industry. We hear them wondering; 'We've done the ERP and improvement of our processes, but what's next? What do we have to do to ride on this wave to become fully digital?"
What do you see as the main trends in the manufacturing industry?
"We are having a lot of conversations about sustainability and how collaboration is key to handling this big issue. Not only on the factory floor but across the whole organization. You can't solve this problem by yourself, you need to work with your customers and suppliers."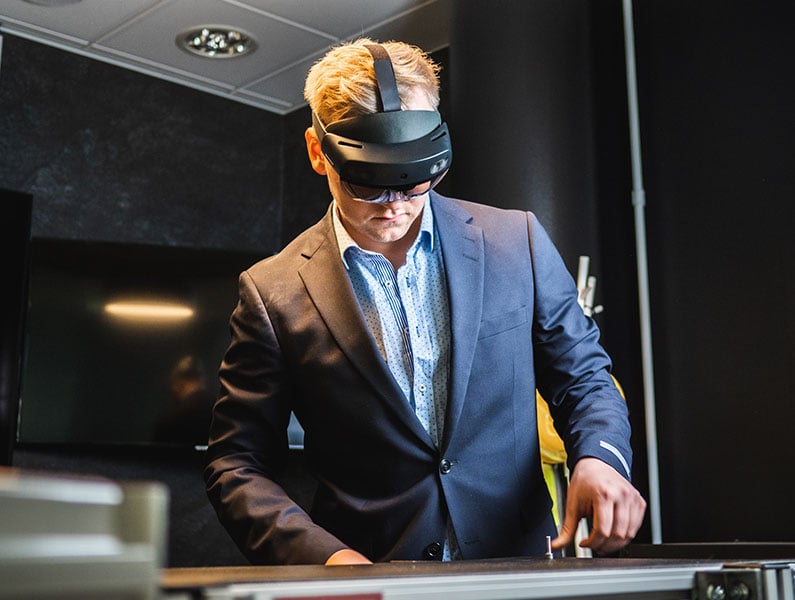 Get a heads up on supply chain disruptions
Harri Era, advisor and expert in D365 Finance & SCM from Fellowmind Finland, was there to guide visitors into the future of Industry 4.0.
"We showed the possibilities for Supply Chain Management through AI, Azure cloud, and Intelligent Order Management. Get a head start on unexpected disruptions with full visibility of the global material flow, from the shop floor to the end customer. Let AI and Machine Learning do the heavy lifting to release people from manual tasks and instead uplift them to make intelligent data-driven decisions."
Remote assistance with mixed reality and Hololens
Miika Tekoniemi, Senior Advisor and Product Manager, Power Platform from Fellowmind Finland, demoed the Hololens capabilities for anyone interested in how we solve the age-old industry questions with the help of mixed reality.
"With mixed reality devices like the Hololens, users can get better service on short notice without needing to send a senior technician to help them out on site. Remote assistance is an efficient and sustainable way to reduce downtime and help users perform their tasks in the best way possible."
See you next time!
It was truly great to be back in Hannover to share our vision and expertise with industry representatives and customers. Most importantly, it was a pleasure to get inspired by all our interesting conversations during the Hannover Messe. We thank all of you who took your time with us at our stand (and even shared a signature Fellowbrew beer at the after-messe mingle) and we hope to see you next year or at the next event!

If you want to know more about our vision for the Manufacturing industry, head on over to our Manufacturing page to find out more.