Five success factors for the digitization of communication
The noise in German SMEs about the digital transformation is getting louder. Not only large companies and corporations are saddling up. Smaller medium-sized companies and public institutions are also digitizing their processes and internal and external communication. How and why you should digitize communication with customers and employees is shown by these five factors: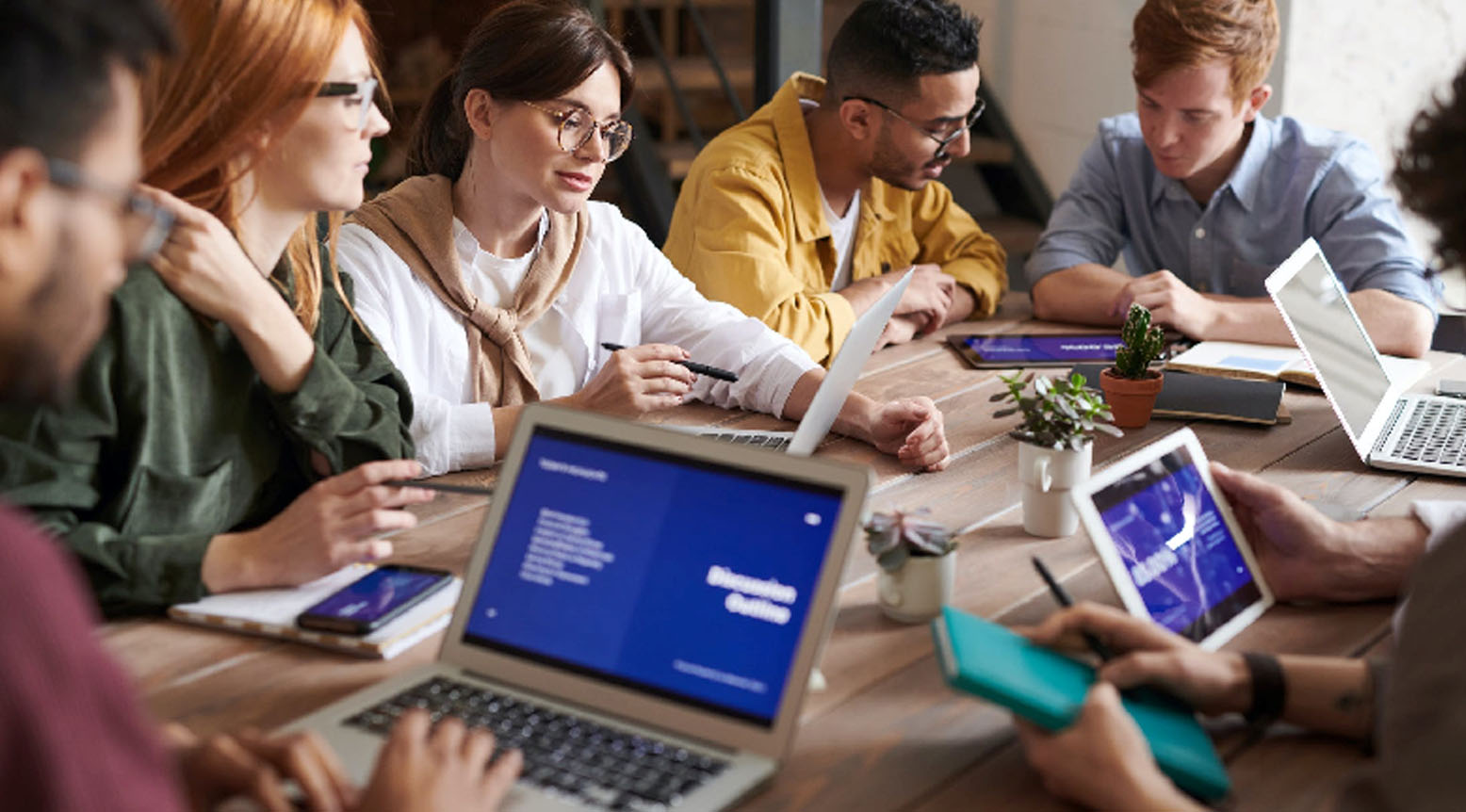 Success factor 1: React agile and innovative!
Successful companies communicate intensively and always think one step ahead
Let's take a look at the market. Successful today is the one who is constantly on the move. If companies want to be successful, they should become pioneers. Without good digitization, this is no longer possible today.
Internet companies such as Google and Amazon, for example, are constantly evolving. They continually invent new business areas actively and continuously on the digital pulse. The main thing is innovative and quickly implemented. To create this agility, companies need extensive data analysis and digital processes, good internal communication, and a good feel for the wishes of their customers.
Success factor 2: Work together
Internal communication and collaboration via the "Digital Workplace"
Successful companies today are exceptionally creative, fast, and agile. To do this, companies need good internal communication and an open working atmosphere. The "Digital Workplace" is a critical interface. Through it, communication and collaboration can be innovatively controlled and, above all, creatively stimulated. If companies do not manage to improve their internal communication, they lose valuable creativity and necessary agility.
The "Digital Workplace" functions as an information portal (for example, in the form of a social intranet) and as a lively "collaboration" platform. Office 365 tools such as Microsft Teams promote this creativity, fast exchange, and cross-departmental work. Integrating business processes into the "Digital Workplace" ensures efficient processing of a wide variety of topics and areas.
Success factor 3: Learn to love technologies!
Change management for the "employee experience"
The only important thing is not to overwhelm the employees with the new technologies but to take them strategically step by step on the journey. If this works, companies achieve the same dynamics among their employees as with their customers through digital transformation. We are talking about the employee journey within internal communication. Due to the high level of agility, social features in the intranet, and the many mobile components, companies arouse enthusiasm and strengthen the motivation of employees: collaboration is promoted, and knowledge is shared.
The "Employee Experience" thus also becomes a job engine and is an important success factor for the intensive use of the "Digital Workplace." In this way, companies are already taking a huge step toward the digitization of communication and ensuring better cooperation in the long term – thus, of course, also for more commitment, creativity, and agility in the company.
Success factor 4: Get in Touch
Digital customer communication for more success in sales
Traditional marketing and classic sales alone are no longer enough today. If companies want to achieve more sales, they must adapt to the market and be represented as "omnichannel." Innovative technologies in marketing and sales can increase sales opportunities and create unique and individual customer experiences.
Because with a large number of products of the same quality, a perfectly organized, creative, and personal customer journey and excellent service are decisive for the success of a product or service. It makes sense to transform the business model into the "New World."
Companies should take full advantage of the possibilities of digitization, for example, through CRM and marketing automation, to design customer experiences creatively and personalized.
Success factor 5: Take care
First-class service around the clock.
First-class service and comprehensive customer management are also part of today's customer experience. Customers not only want to be addressed individually and creatively but also feel personally cared for around the clock.
Today, self-service portals, knowledge bases, extranets, customer portals, smart apps, and chatbots offer an all-encompassing service that is adapted to every industry and company. Expanding networks and good communication and infrastructure between customers, suppliers, and companies are also part of a successful digital transformation.
Conclusion on the digitization of communication
Of course, you must start with digitization somewhere, but think holistically. Digital processes must not end in the workplace. If companies opt for a digital transformation, communication with employees and customers is an essential part of it. That's why companies today need a holistic digitization strategy. At best, it breaks the company's boundaries, gradually expands to all networks, and includes the entire infrastructure of the company.
Internal and external processes should be gradually changed. Future orientation and extreme agility for innovative business areas are essential to success today. The digitization of communication paves exactly this way. This includes the digital communication of the employees, as well as the communication with the customers.
An innovative "Digital Workplace" and good customer communication via self-service portals, Chatbots & Co., each with mobile communication interfaces via innovative enterprise, service, and custom apps, offer speed and flexibility in collaboration and customer service.
Do you have any questions? We would be happy to advise you personally on your digitization strategy.