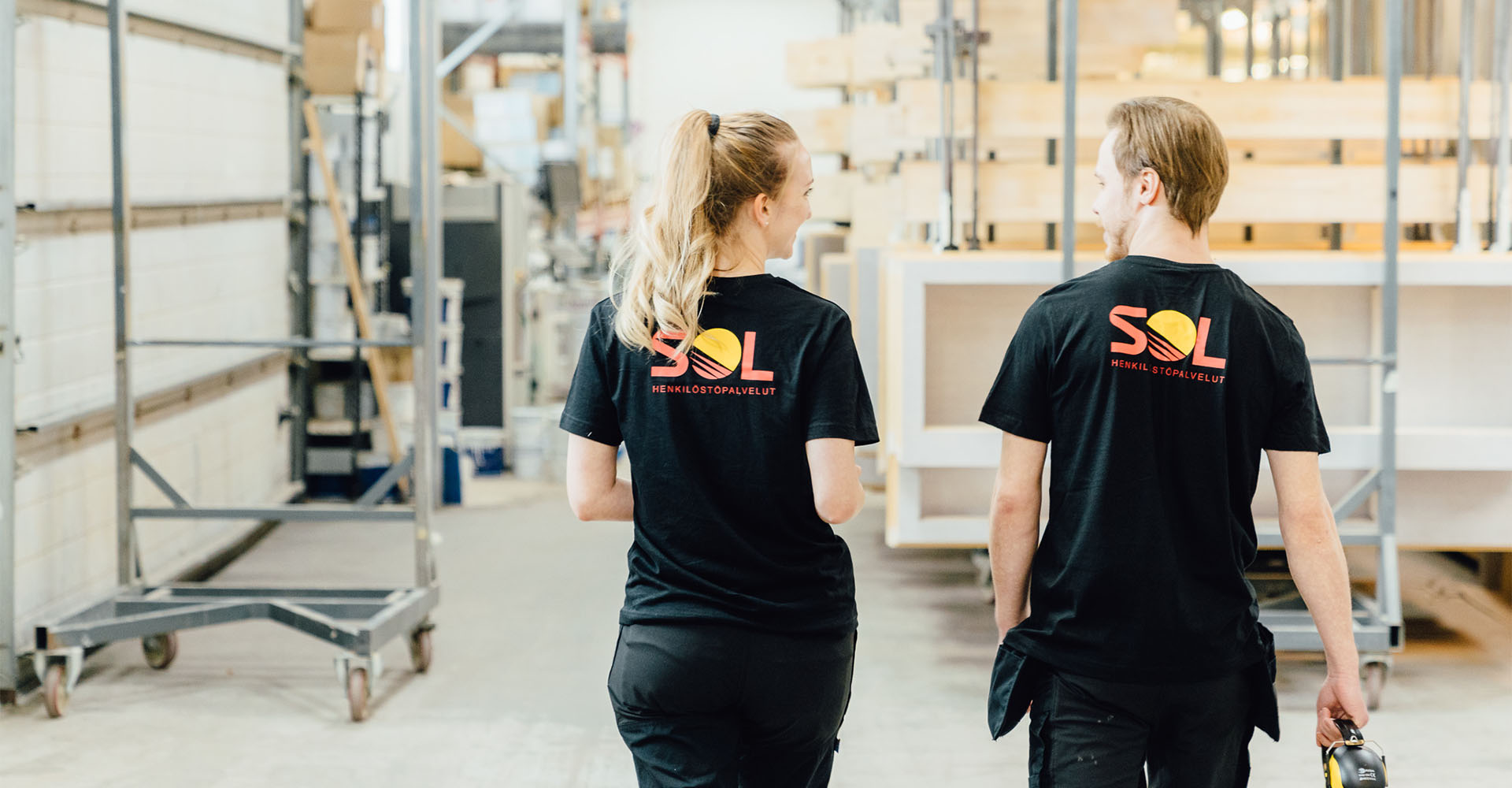 Challenge
Operating in Finland, Sweden, Denmark and the Baltic countries, SOL offers a wide range of laundry, cleaning, facility management, property management and security services. A family-owned company focused on responsible business, in its 30 years of operation SOL has grown into an organization with nearly 15,000 employees serving customers in hundreds of locations.
To support its future growth aims and take advantage of the latest technology opportunities to accelerate its business, SOL decided to streamline and clarify its financial processes and practices. At the same time, it upgraded its ERP solution to the latest Microsoft Dynamics 365 Finance & Operations.
"We had a brand new growth strategy, but our systems did not allow us to implement it. We were not able to scale up in any area of our operations, actually, because the technologies we were using were at the end of their lifespan and would not have been able to handle the additional volume," says Joni Westman, SOL's Chief Information Officer.
Another challenge for SOL was the slowness of reporting. "By the time our finance team had completed the internal accounting, there was virtually no need for figures. We were running our business and making decisions largely on a gut feeling, and naturally we wanted to change that," Westman says of the situation at the time.
SOL's objectives for the project were:
internal reporting had to be completed faster and be of better quality
business processes had to be streamlined, and efficiency had to be increased by building automatic integrations between different systems
time spent on processing purchase invoices had to be substantially reduced
the solution had to be as standardized as possible, and minimize complex and costly customization.
Faster response and smoother work
With the new solution, SOL's board and management would have a better and more real-time view of the company's operations, allowing them to react more quickly to business changes. They also wanted to streamline the day-to-day work of their managers. Instead of static monthly PDF reports, they could directly analyze the figures they needed in the system, even on a mobile device – all the way to purchase invoice entries, for example.
"Our organizational structure is quite complex, which makes the planning of reporting difficult. All five of our subsidiaries operate in completely different industries, have different customer bases, and therefore have different metrics to monitor. The reporting had to be not only very fast, but also versatile, taking into account the different needs of all the companies and users. And, of course, it had to be as flawless as possible, so that no time was needed to be spent on manual corrections," Westman says.
Solution
SOL and Fellowmind experts first focused on the design phase of the project. The aim was to create a common understanding of the scope of the project and of the technologies that would best meet SOL's needs.
"During the design phase, we went through SOL's core processes from start to finish. So we didn't just focus on what one system or, say, the finance team does. Instead, in the procurement to payment process, for example, we mapped out how each new customer's data is processed, how orders are received, how the service is provided, and finally, how invoices are recorded, paid and acknowledged," says Fellowmind Competence Lead of Data Christian Lindholm.
The processes to be analyzed for SOL were:
order to cash
purchase to pay
record to report.
Westman found the design phase useful: "I really liked Fellowmind's different approach at the beginning of our project. In our previous ERP deployment, little time was spent describing the project, which meant that in the end no one knew how the system should work, who should act and when. The design phase was also an eye-opening experience for my colleagues in the finance team, for instance, who could not necessarily see from their own role what impact their work could have on someone else's work at another stage of the process," says Westman.
Deep insights for the best outcome
In SOL, reporting is done using Microsoft Power BI tools. For this reason, during the design phase a Power BI consultant with a controller background was also involved to guide the project team's thinking about who would use the reporting results and help SOL to discover new insights that benefited business.
"It's often quite refreshing for our clients when we go beyond such things as whether records are being made mechanically as efficiently as possible. A more appropriate question might be why these entries are being made in the first place, whether the right entries are even being made, and whether the company could be making smarter entries from the start. The end result of this critical thinking process is that reporting is faster, more direct and more accurate for owners, management and service managers, among others," Lindholm says of the design phase.
The benefits of the design phase included:
an opportunity to discuss different ways of working and how to make them more straightforward and more automated
the possibility to identify in advance the difficult points of the project, which should be addressed with more time and personnel from both the consultant and the client during the implementation phase.
making sure that no more surprises, schedule delays or budget overruns arise during the implementation phase
creating a common understanding of what technologies that are already in use can be used more widely, and what additional new technologies and integrations are needed.
"Not only did we have a clear understanding of the scope of the project before implementation, with the needs of all stakeholders were taken into account, but we also had clear documentation of everything that had been agreed. This facilitates further development. Now, for example, when we want to streamline one of our core processes, we already have a good idea of what happens in the process and who does it. Getting started is far quicker," Westman says of the benefits.
A powerful platform to connect and process data
The biggest and most demanding part of SOL's project was the building of the data platform. The company had many source systems in place, such as enterprise resource planning, customer relationship management, and a system for recycling purchase invoices. And each system operated on its own data model. The system's data model defines how the system stores and processes data, and how it uses it for different purposes, such as data retrieval and analysis.
"In order to produce consistent, reportable information for management and business needs – for example, an operational income statement – from many source systems and data models, a data platform is needed between the source systems and reporting tools. Its purpose is to combine their data in the right way. The data platform stores and processes the data it collects from source systems and also processes the data for further use in reporting software," says Lindholm.
Data is imported from the source systems as it is. To ensure that data is reliable and can be used intelligently for analytics, reporting and other purposes, it can be curated and further processed in the data platform.
"It's very common for companies to introduce systems at different times and develop them at different stages. This can lead to the systems' structural modelling differing from each other, or they can even be outdated. With the data platform, these conflicts can be resolved by creating a single data model for the company. The data platform can also be used to maintain structures that match the company's current business model. In this way, we ensure that business decision-makers in a company receive accurate, easily intelligible and correct information to support their decision-making," Lindholm explains.

So what do these more technical aspects under the hood mean for the average user?
"Everything comes down to our new scorecard, which several hundred of my colleagues use to guide their business and make decisions on an ongoing basis," concludes Westman.
"The indicators on the scorecard must be useful not only to our management and owners, but also to our managers and executives in the different companies. There must not be too many of them per user, and they must be relevant to each different user. The level of organization at which they are looking at business outcomes must also be taken into account. In practice, the indicators must therefore be such that they can help the user for their part to change the course of the business in the direction they want. Then when it's time to start looking at how to build such multi-level and multi-dimensional metrics, you quickly realize that you need a data platform that combines all the available data from different systems to fit colleagues' needs accurately."
Results
The whole project took about a year, including the design phase. As a result, SOL now has a scalable, flexible and secure ERP solution and a state-of-the-art data platform that the SOL team can easily develop in the future.
"When I compare this to my previous projects where we have built data warehouses and created reporting from it, this has been one of the least expensive. Microsoft has an excellent data architecture, and some functionality is already built into it. Add to that a partner like Fellowmind, which has such a clear vision of how to make use of Microsoft solutions, and you get great results."
When SOL were originally choosing a partner for the project, they had different internal views on what technology provider to work with. All the final candidates were excellent, Westman says.
"Any of the potential partners could have delivered a new ERP for us. In terms of financial processes, there were even harder acts to follow than Fellowmind. But what the others lacked was a view of the big picture, and one of the essential elements of that was building a data platform. I knew that if we failed to do that, it would show up directly for the users, and then the whole project would be a failure. I have to say that now I'm really happy with our choice and what we have achieved together.
Bold use of cutting-edge technology
One concrete and much appreciated outcome of the project was a revised scorecard report, which is used by all of the approximately 500 service managers in SOL. With the card, each service manager can easily see their key performance indicators and how these are developing. It is also easy for the manager to analyze different events in the same view.
"It's been great to hear from colleagues that we achieved the goals we set for the project. People have welcomed the fact that they now have a single place where they can find virtually all the information they need for management tasks. Our top management is also very pleased with our achievements," Westman says.
Although building the data platform proved to be a difficult part of the project, the SOL and Fellowmind teams did an excellent job there too.
"It was great to work with experienced data experts who were bold enough to take on new technologies for our project," says Westman. "When building our data platform, we introduced the Data Lake Export feature in Dynamics, among other things. This allows data to be imported into the data platform with a very short delay, without overloading the enterprise resource planning system. This keeps all our reports up to date and also keeps the ERP running well, even if we export data to the data platform at any time of the working day."
Well implemented integrations save money
Throughout the project, particular attention was paid to the eventual users of the solution and the reports the solution provides. The aim was to make everyone's life easier. To increase automation and enable the seamless flow of information, the Fellowmind team also built several integrations between SOL's different systems.
"It should also be noted that integration skills are another factor that differentiates IT suppliers. Even if they are otherwise skilled system integrators, not everyone knows how to build integrations. This can be seen only later by the client's staff when the integrations fail, and of course it can also result in hefty maintenance bills," Westman says. "But in my view, the integrations are also one of the success stories in this project. They have been running really well, and as a result our maintenance costs have remained low even after the project was completed."