Fellowmind AI Broadcast Series
A lot of exciting things are happening in the world of AI right now. Make sure you don't miss out on new developments surrounding OpenAI, Microsoft Copilot, and generative AI by watching the Fellowmind AI broadcast series featuring some of our top experts.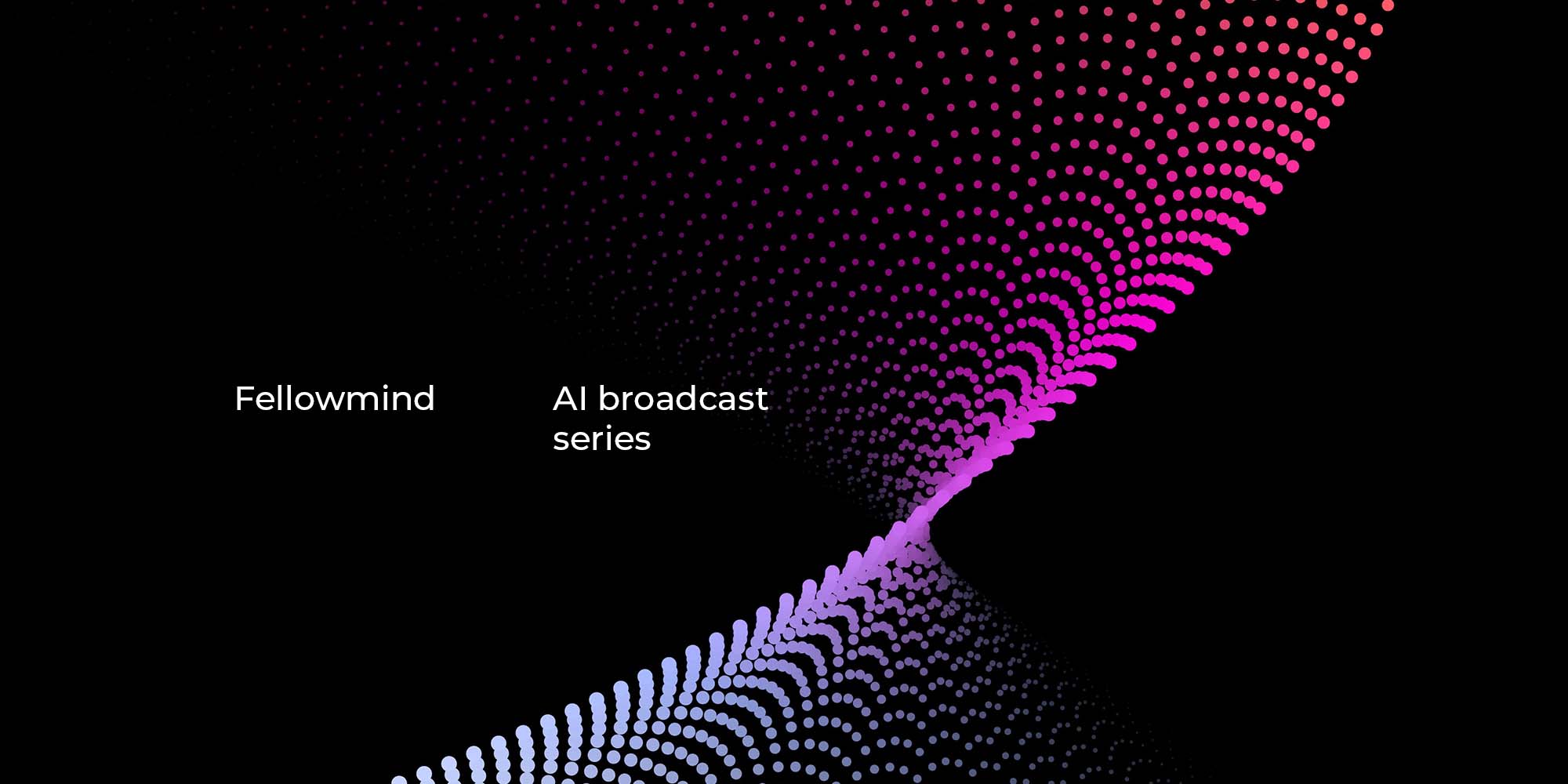 Artificial intelligence is said to change the way we work and operate forever. With the AI revolution at our doorstep, carrying great opportunities to get you ahead of your competition, the question is: are you all-in in your organization already, or do you hold off waiting to see what happens? What if you don't get on the AI train today?
This broadcast series is aimed at you decision-makers who want to embark on the journey into the heart of cutting-edge AI technology and learn how it can transform your business.
To help you keep up with all new AI-powered tools coming your way, we have assembled some of our top AI experts in this broadcast series, where we give you insights like AI-basics, how to prepare for and get started with Microsoft Copilot, use cases for OpenAI, finishing the series with an exclusive live commentary from the Microsoft Ignite event.
1.11.23 LinkedIn Live Broadcast: AI basics - what, why and how?
Wednesday, November 1, 2023, 13:00 - 13:30 CET

The world of technology is moving faster than ever, and staying ahead of the curve is vital. But getting started in AI has never been easier. We'll kick things off by dissecting the essence of AI and the reasons behind its widespread attention. And we'll also navigate through the Microsoft technology landscape, ensuring you're equipped with the right tools.
In the studio, we have our experts, Miika Tekoniemi from Finland and Henrik Kim Christensen, ready to guide you through this journey.
Agenda
Understanding AI.

What is it, what is the hype about, and what makes this the perfect time to delve into the world of artificial intelligence?

Will AI take my job, and how can I trust it with my data? Answering the pressing concerns to help ease your mind.
Business Transformation: Learn how Generative AI is revolutionizing the business landscape. Explore the remarkable potential it holds for your organization.
Uncover the Benefits: Delve into the countless advantages AI can bring to your business. From increased efficiency to data-driven insights, we'll show you the way.
8.11.23 LinkedIn Live Broadcast: M365 Copilot release is here!
Wednesday, November 8, 2023, 13:00 - 13:30 CET
Microsoft 365 Copilot has just launched as the end-user-friendly AI assistant built into the tools that most people use on a daily basis. In Fellowmind, we have already used AI and Copilots in our daily work, and we are happy to introduce this new possibility to all of you - and demonstrate the different use cases where we have experience that this can create a positive difference.
Join this webinar and learn what Microsoft 365 Copilot is, how it works in practice, and what our recommended next steps are for those of you who want to adopt this AI tool.
In the webinar, the 4 following topics will be covered:
What is Copilot for Microsoft 365?

Demonstrations of how it works in daily work practices

What value can it create?

Cost and license requirements
15.11.23 LinkedIn Live Broadcast: Open AI use cases - Unlocking the full potential for your business
Wednesday, November 15, 2023, 13:00 - 13:30 CET
How can you gain a strategic edge by harnessing AI capabilities? Every organization is different and thereby has the opportunity to create unique business advantages powered by artificial intelligence. For example, integrating OpenAI models seamlessly into your core processes enables you to inquire and perform tasks traditionally handled by humans. These optimizations empower you to craft superior products and services, enhancing the experience for your customers with personalized recommendations.
Don't miss the broadcast, where experts Miika Tekoniemi and Tero Tapanainen demonstrate the OpenAI capabilities in action with real-life use cases, revealing the immense benefits for your business operations.
Agenda
Unleashing Competitive Advantage: Discover how custom copilots can transform your business data into a distinct competitive edge.
Real-World Benefits: Explore concrete case studies, machine data utilization, transforming e-commerce experience, onboarding processes, and efficient hour tracking.
A Glimpse into the Future: Witness a live demonstration of a day in the life of a field worker in the AI-driven future.
The Fellowmind OpenAI Accelerator: How you can get started!
Don't miss this opportunity to supercharge your business with the Open AI and enter a gateway to a new era of productivity and innovation!
16.11.23 LinkedIn Live Broadcast: Expert insights from Microsoft Ignite
Thursday, November 16, 2023, 15:00 - 15:30 CET
The tech event of the year is here! And we have sent two of our experts, Henrik and Rik, to Seattle to give you exclusive live insights from the Microsoft Ignite conference. The buzz around AI developments has hit a fever pitch, and the anticipation for the next groundbreaking reveal is electric. What's on the horizon in the world of tech?
With so much happening, it's nearly impossible to keep up on your own. That's why we're giving you an exclusive opportunity to stay ahead of the curve. Join us live as our three experts Henrik, Rik in Seattle, and Pernille in the studio in Copenhagen, unveil the best of what's next in the future of technology and AI.
What to expect from the live event:
Top takeaways and highlights from the keynote sessions
Expert insights and opinions into new developments
New Microsoft release announcements
22.11.23 LinkedIn Live Broadcast: Top takeaways from Microsoft Ignite
Wednesday, November 22, 2023, 15:00 – 15:30
Hold onto your seats because our expert Henrik has just returned from Microsoft Ignite in Seattle and is eager to share his insights with Fellow expert Pernille in our live broadcast special, fresh from our studio in Copenhagen.
Get ready to dive deep into the cutting-edge insights from the heart of Ignite! We're breaking down the top takeaways that every business leader must know about the future of technology and AI advancements.
We'll also reveal the can't-miss sessions from Ignite, where the real magic happened. These are the sessions that will roadmap your path to innovation.
What to expect from the broadcast:
Complete summary of Microsoft Ignite
Expert analysis of new technology
Top takeaways and insights from the conference
List of must-see sessions for business leaders